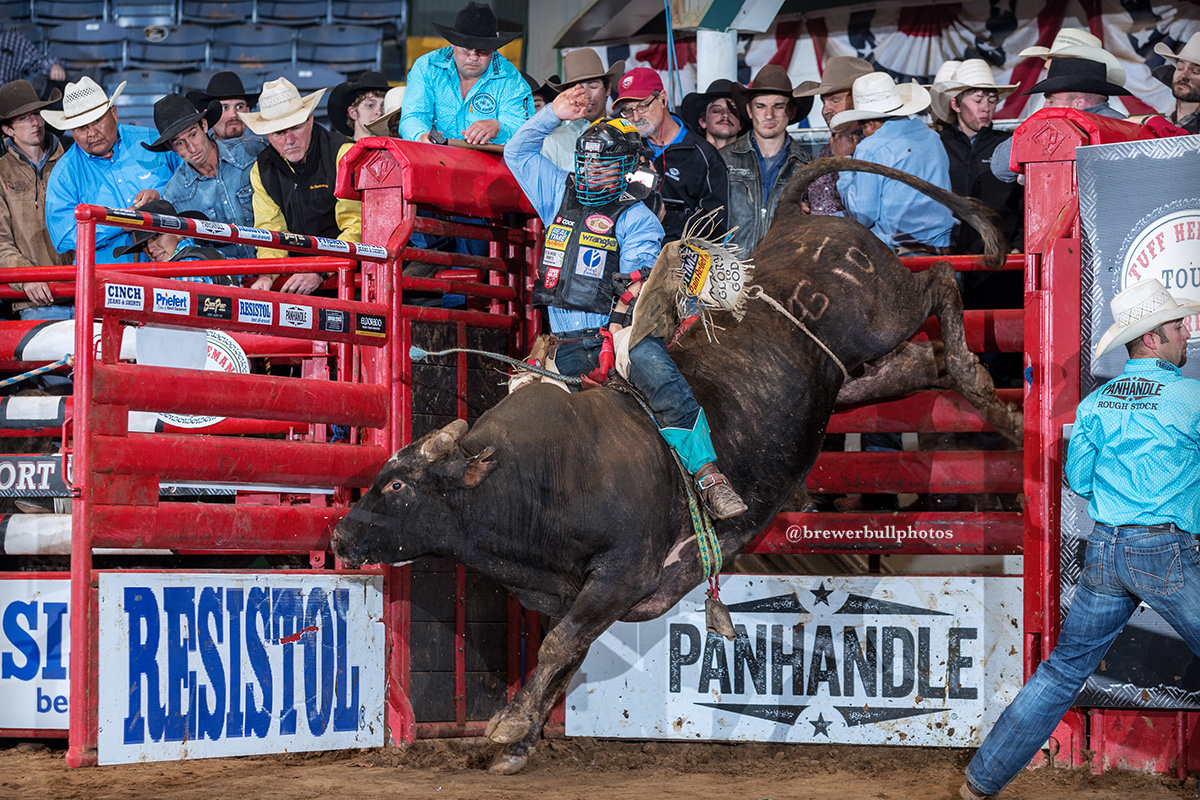 FORT WORTH, Texas – April 8, 2018 - At 35 years old, PBR World Champion Mike Lee said he has no plans to retire. He defied the odds and expectations of an aging athlete and extended his career Saturday night when he was the only cowboy athlete to ride three bulls to win the Tuff Hedeman Fort Worth Challenge Bull Riding presented for fourteen years by the Michael Gaughan family and the South Point Hotel and Casino Las Vegas.
"People you surround yourself with are going to determine what you end up like and you really need to look into that and who you are spending time with and who your friends are. It will advance you or hurt you," said Lee following the Tuff Hedeman classic event that birthed stand-alone bull riding 26 years ago in the same arena.
Riding in the same arena he competed in since he was ten years old, Lee said he was very comfortable and found his zone. When it came to what one world champion says to another, he chuckled remembering what Hedeman said just before he left the chute.
"You have the best bull in here, don't screw it up," said Hedeman who Lee has known since he selected bull riding as his profession.
While the city is called Cowtown because of its history as a center for the cattle and beef-processing industry, it also has been a fortress for pro bull riding.
"I always look forward to this event, the fans, the sponsors and the whole Ft Worth community gets behind it and it's a great way to give back to the people of Fort Worth who have supported me during my career", said Hedeman who had founded and piloted the two largest pro bull riding organizations for the past 23 years and the recently renamed Tuff Hedeman Bull Riding Tour.
30 bull riders including two World Champions and seven top PRCA ranked bull riders headlined the event where Hedeman celebrated the future of the sport with the past.
Twisted J Stick Bull Riding
The Cody Johnson Twisted J Stick Bull Riding for budding bull riders 6 years crowned champion Brently Alford who demonstrated how he was eventually going to ride a bull and earned the 2018 Twisted J Stick Bull Riding gold buckle.
Twisted J's Cody Johnson led the Build a Cowboy Bear workshop with Cook Children's Hospital patients and Western Wishes and was joined by Hedeman, broadcaster Ali Dee, bull riders Cody Rostockyj and Jeff Askey and past World Champion Scott Mendes. The Cody Johnson family are the owners of Twisted J in Stephenville, Texas.
Cripple Creek Junior Steer Riding Championship
Thirteen year old Jett Harkin, who won his first national title riding calves at 8 years old was no stranger to the bucking chutes in Fort Worth. It is no surprise to anyone who knows Jett Harkins that success on bucking stock was in his future. And while he loves the sport and has no plans of stopping, Harkin said he understands there is an element of danger to it.
Legend has it Harkin's been telling his parents since he was in diapers that he wanted to ride bulls and he did just that on Saturday night turning in a 90 points performance in front of an adoring crowd with his professional bull riding peers on the back of the chutes cheering him on.
Round One
Cody Jesus thrilled the crowd with a hellacious battle ending in a 93 point ride score on 12B Hellfire (Whisnant/Shaw). National Finals Rodeo qualifier Cole Melancon was on his heels with 89.5 to take second in the round, getting getting past Winston and Melton's 435 Time to Shine. Rookie Lane Nobles made his presence known with an 89 point victory against Rawson's 220 High Voltage.
Trey Kimzey earned every fraction of his 89 points on Break the Chain (JQH). Kimzey the younger brother of 7 time World Champ Sage Kimzey, is making his mark on the Tuff Hedeman Tour.
Mike Lee was behind Kimzey and began his race with 88.5 points aboard a familiar opponent, JC Knapps Kookabura.
"This bull bucked me off three times in the PBR, he slams them pretty hard cause he keeps moving forward. I stayed in front of him, if you get behind him he will bring you to the ground pretty hard. He halfway faked left and went right pretty hard. I knew at the third jump I had him," said Lee who was thrilled to finally hear the whistle on JC Knapp's prize bucker.
Trey Benton III, the 2017 and current number two ranked PRCA rider in the World, the only rider on the chutes to participate in Fort Worth as a junior steer rider and come back to win the bull riding in 2014 turned in a hard fought 88.5 point score on 257 Heavy Duty (Hat Brand)
Koby Radley, David Hudson, Brett Custer and Mickey Andrews completed the list of qualified rides from round one where only ten of the 30 heard the whistle while still aboard their bull.
Semifinal Round
The bulls took complete control of the colisieum allowing only three qualified rides in the 12 man semifinal round. Cody Jesus was in control of the average with an 89 on 480 Westbound, a new bucker on Mike Rawson's string, which put him 182 on two bulls.
Lee would steady his qualifying course with 87.5 on 3034 Fraeulin (Jaynes).
"I didn't know the bull at all – he brings good bulls and he was on the left delivery – it was tempting to think he would go left but he faked left and went right," said Lee who says at this point in his career "I leave the chute and my mind goes blank."
Oklahoma bull rider Mickey Andrews came to ride turning in an 88.5 on 151 Arkansas Flash (Barrett/Willis) and was third behind Jesus with 172 points.
Shoot Out Round
With only three riders making the whistle on two, Cole Melancon was drawn into the final four shoot out on his first round 89.5 score. The stage was set Jesus selected the left hand delivery Calico Kickin (Jaynes) which forced Lee's hand for the only other left hand delivery bull, 10 Damn Frustrating. Andrews selected 157 Legacy (Whisnant/Shaw), who is unridden in 2018, and that left 210 Chaos Ghost for Melancon.
Melancon bucked off first followed by Andrews who lost his battle when seasoned veteran bull 157 Legacy felt Andrews - the bull regrouped and bucked him off.
32 seconds later Mike Lee was the only one left standing and was in the winner's circle accepting the check from Panhandle Slim's Gina Chancelor, Tess Wyle, and Hedeman.
"I was second coming back to the four man and Jesus took the better bull on the left hand delivery – I took the second left hander. Tuff said what he was going to do, the bull faked me out a little but finally went left. The stock contractor said I had been on him before, but I don't remember it," laughed Lee while taking photos with Westernwishes.org Tuff Hedeman Bull Riding wish recipients.
Thanking the fans who have supported him in the Fort Worth area since he began his career 17 years ago, Lee and Hedeman joked about being the old guys in the room.
Lee who joined the Tuff Hedeman tour this year with family and friends in mind had this to say about his decision.
"My dad was a horse trainer and I grew up cleaning stalls and breaking horses, then on the weekend we would go to bull ridings, the bull riding kept me out of trouble," said Lee.
"I want to spend time with my kids and they are getting close to being teenagers and I need to make sure they grow up right and be there for them, I want them to love God and honor him and enjoy what they have – Tuff's tour allows me to do that."
Fort Worth has a strong case for claiming to be the bull riding capital of the world and the story that is now a legend, began twenty-six years ago when four time World Champion and Hall of Famer Tuff Hedeman produced the first Tuff Hedeman Challenge at the Cowtown Coliseum in the historic stockyards of Fort Worth. That western entertainment tradition lives on today in bull riding only events in thousands of cities around the world with its roots the invitation only Tuff Hedeman Challenge bull riding in Fort Worth, Texas.
With a host of invitation only champion riders that include World Champions and National Finals Rodeo stars including Trey Benton III, Jeff Askey, Cody Rostockyj, US Army veteran Juan Alonzo, and Australia's Ben Jones - the roster was second to none as the fans have come to expect from the Tuff Hedeman Fort Worth Challenge.
Fort Worth Tuff Hedeman Bull Riding Challenge Results
1, Mike Lee, Alvord, Texas, 263.5 points, $21,000. 2, Cody Jesus, Sawmill, AZ, 182 points, $2,250. Mickey Andrews, Weatherford, OK, $2250. 4, Cole Melancon, Liberty, TX, $1500.
Fort Worth Bull Team Challenge Results
1, Hat Brand Rodeo, 281.22, $30,000. 2, Bob Whisnant/Hayden Shaw, 280.35, $22500. 3, Knapp Bucking Bulls, 279.7, $15,000. 4, Mike Rawson, 278.22, $7500.
Cripple Creek Junior Champion
Jett Harkin, Stephenville, Texas, 90 points, $1,000
Twisted J Stick Bull Riding Champion
Brentley Alford