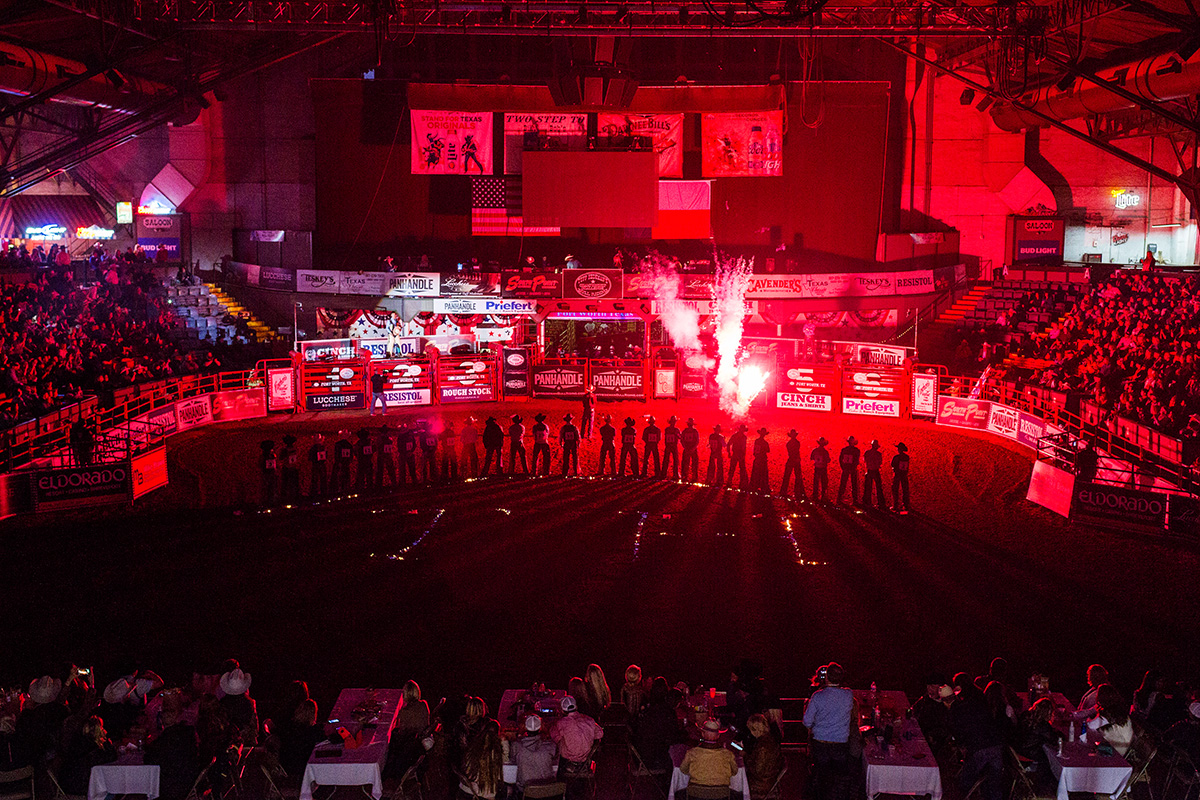 Huron, South Dakota Tour Date Announed
HURON, South Dakota - April 10, 2018 – The most recognizable cowboy in the world Tuff Hedeman will return with his team, bringing the Tuff Hedeman Bull Riding Tour to the Grandstands at the South Dakota State Fair on August 29 and 30. Four time World Champion and Pro Rodeo Hall of Famer Tuff Hedeman and local businessman Red Wilk together again will produce the fan favorite event featuring three rounds of adrenaline rush action packed traditional western entertainment. New this year is Hedeman's "invitation only" designed event which yields the best roster of elite bull riders facing off with world-class bucking bulls in five rounds of intense, high energy battle that kicks off the South Dakota State Fair in 2018.
The Red Wilk Construction Tuff Hedeman Bull Bash features two nights and five rounds of pyrotechnics, family friendly action and the infamous Red Wilk American Hero Award ceremony at intermission. The doors open at 6:30 with the event start at 8 pm on Wednesday night August 29, in Huron, South Dakota with the second performance on Thursday night August 30. Tickets are available at www.sdstatefair.com beginning at $17.
Hedeman, known for lining up elite riders to face off with world-class bucking bulls brings the new "invitation only" format to the fair's Grandstands for the first time.
"We would not be in Huron without Red Wilk, we share the same ideas and values in producing great entertainment and the ceremony honoring the freedom that we all experience every day is truly amazing honoring the service record of some of the most decorated war heroes War heroes.
The highpoint of each year's event in addition to the bull riding action is Red Wilk's tribute to US veterans in hi American Hero Award ceremony, at an extraordinary intermission rite.
Hedeman's signature three round tournament style format is popular with fans as it allows them to see their favorite riders challenge as many as three bulls in one night. As the bull riders progress each earning money for their qualified rides, the final four-man Shoot Out round determines the winner and the bulk of the prize money. Assisting Hedeman's tour to entertain the crowd will be top flight barrel man entertainers and the "gladiators of the arena" the cowboy lifesaver bullfighters who protect the life of the cowboy at every turn.
Hedeman recently formed the Tuff Hedeman Bull Riding Tour and made the decision to go out on his own after serving for a combined 23 years as the former head of the two nationally organized professional bull riding organizations (PBR and CBR) since his retirement as a rider from the sport in 1999.
"At this point in my life, it's best for my family to be solely responsible for my destiny. My original goals have not changed since 1992. I'm still committed to producing bull riding events that give each bull rider entered the chance to win first and make sure the fans at every event are getting more than expected," said Hedeman.
The Red Wilk Construction Bull Bash celebrates its 14th year as the opening show that kicks off the 134-year-old State Fair tradition in South Dakota. Tuff Hedeman and the team's appearance schedule with rider roster to be announced at a later date. Immediately following the bull riding, fans will get a chance to meet and get autographs from Tuff Hedeman and the bull riders.
The Red Wilk Construction Bull Bash will be held at the South Dakota State Fairgrounds, 890 3rd Street SW, Huron, SD 57530. Tickets start at $12 for youth and $17 for adults and are available by calling 866-605-FAIR, or online www.sdstatefair.com. List of contestants will be available at a later date. For more information regarding THBRT and for media credentials or interviews please contact Leigh Ann Schroeder, 940.902.1112 or tuffhedemanpr@gmail.com.
Hedeman Tour Team Heads to Huron for Red Wilk Construction Tuff Hedeman Bull Bash for the opening event at the South Dakota State Fair