Fort Worth Tuff Hedeman Challenge Bull Riding
April 7, 2018
Fort Worth has a strong case for claiming to be the bull riding capital of the world and the story that is now a legend, began twenty-six years ago when four-time World Champion and Hall of Famer Tuff Hedeman produced the first Tuff Hedeman Challenge at the Cowtown Coliseum in the historic Stockyards of Fort Worth. That western entertainment tradition lives on today in bull riding only events in thousands of cities around the world and this week it has come full circle - back to its roots as an invitation-only bull riding in Fort Worth, Texas on Saturday night, April 7, 2018 at 8 pm.
The Fort Worth Tuff Hedeman Challenge is known as an event that can make and break your career and the buckle that comes with it is coveted by all who wear it.
Twenty-five bull riders own a Fort Worth Champion buckle and each one of them is remembered for their effort and superior athletic ability at what is widely considered the event that provided the foundation for what has become a multi-million dollar sport.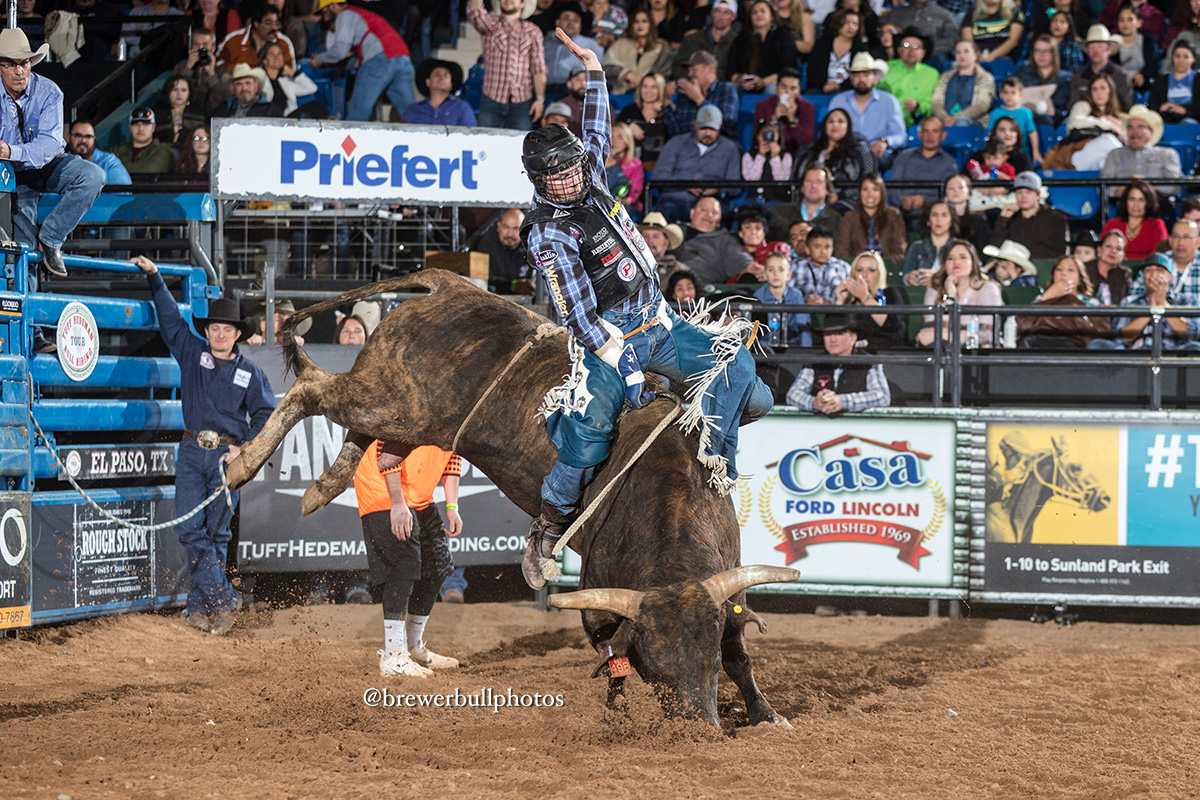 11 of the former Fort Worth champions would go on to win World Champion titles. Many of the world's elite riders including Jim Sharp, Cody Hart, J.W. Harris, Cody Teel, and Cooper Davis, have stood in front of the chutes and talked to Tuff about their night and that legend will continue on Saturday night at Cowtown Coliseum. Hedeman's signature event has always been known to bring in the best bulls to test the best riders and this year's event will be no different.
With a host of invitation-only champion riders that include National Finals Rodeo stars Trey Benton III, Jeff Askey, Cody Rostockyj and United States Army veteran Juan Alonzo, the roster will be second to none as the fans have come to expect from the Tuff Hedeman Fort Worth Challenge.
Past Winners include 2017 Joe Frost, 2016 Jacob O'Mara, 2015 Corey Bailey, 2014 Trey Benton, 2013 Cooper Davis, 2012 Cody Teel, 2011 Cooper Kangiesser, 2010 Friday Wright, 2009 JW Harris, 2008 Chad Castillo, 2007 Pistol Robinson / B J Schumacher, 2006 JB Mauney, 2005 Matt Austin, 2004 Mike Collins, 2003 Cody Hart, 2002 Jim Sharp, 2001 Cody Custer, 2000 Troy Dunn, 1999 Norman Curry, 1998 Tuff Hedeman / Rogerio Ferreira, 1997 Brian Herman, 1996 Aaron Semas, 1995 Gilbert Carrillo, 1994 Clint Branger, and 1993 Cody Lambert.
1995 Champion Gilbert Carrillo
While the city is called Cowtown because of its history as a center for the cattle and beef-processing industry, it also has been a fortress for pro bull riding. One contributing factor for Fort Worth's status as a major provider to the sport is its claim of being the first rodeo to feature bull riding in the listing of rodeo events, the other is four-time World Champion and Pro Rodeo Hall of Famer, Tuff Hedeman who gives credit where credit is due.
"I always look forward to this event, the fans, the sponsors and the whole Ft Worth community gets behind it and it's a great way to give back to the people of Fort Worth who have supported me during my career", said Hedeman who had founded and piloted the two largest pro bull riding organizations for the past 23 years. This is the first year since 2003 that the event is again his own.
Tickets on Sale now ranging from $35 to $100. Fans are encouraged to get their tickets now as the show has sold-out in past years and is expected to do so this year,
Websites: Tickets or tuffhedemanbullriding.com. Stick bull riding entries email - stickbullrider@aol.com. Event Location: Cowtown Coliseum, 121 E Exchange Ave, Fort Worth, TX 76164
For interviews, press credentials and more information please contact Leigh Ann Schroeder 940.902.1112 or tuffhedemanpr@gmail.com. Follow us on Facebook and IG at Tuff Hedeman Official