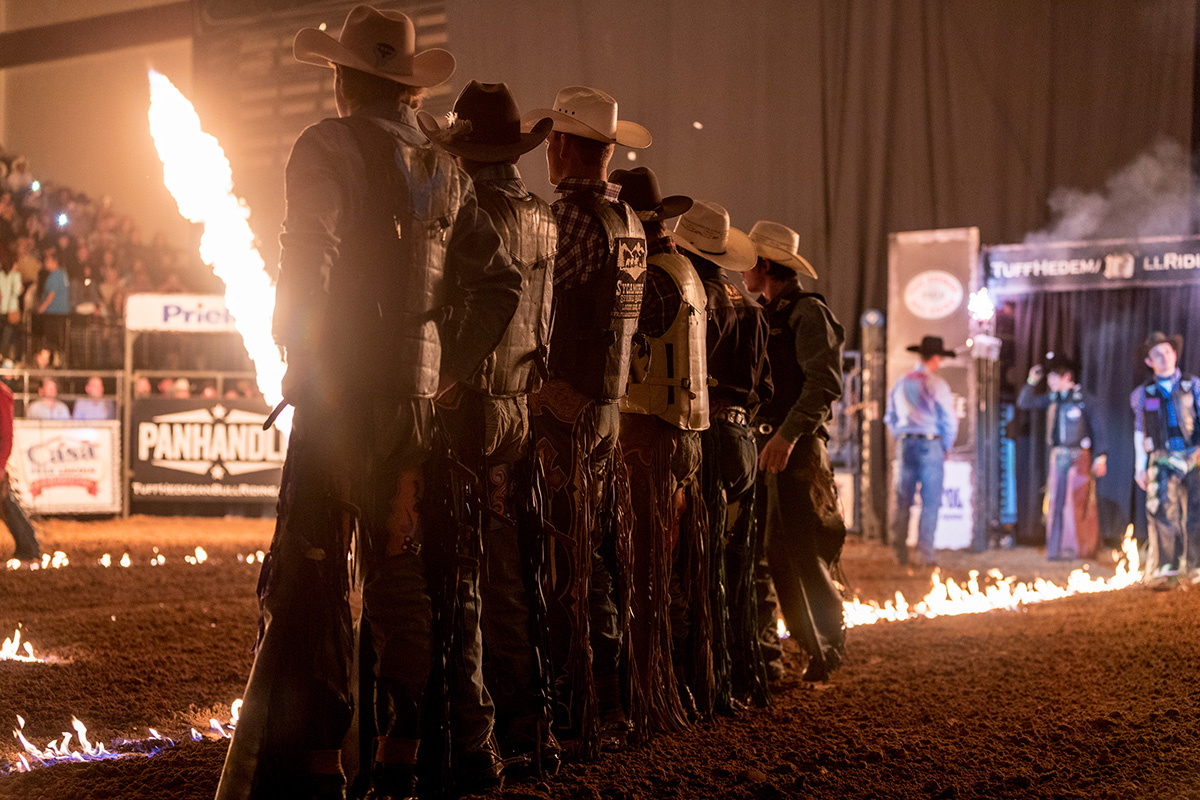 Tuff Hedeman Fort Worth Challenge Bull Riding
FORT WORTH – Returning to the site where it all began, the pioneer of the sport of bull riding, Tuff Hedeman returns to Fort Worth for the recently renamed Tuff Hedeman Bull Riding Tour presented by South Point Hotel Casino and Spa. The four-time World Champion and Pro Rodeo Hall of Famer is preparing to celebrate twenty-six years of the first stand-alone bull riding he produced for the first time in 1993 in Fort Worth's Cowtown Coliseum. Hedeman announced today that tickets are on sale and expected to sell out before the doors open on April 7.
"I look forward every year to crowning a champion in Cowtown, it is a special place for me where the sport and bull riding athletes, now known world wide by millions, got it's start," said Hedeman.
Competing on the same dirt floor in the same arena, Hedeman will once again pack the house and entertain bull riding fans and newcomers in town who are looking forward to experiencing a traditional western entertainment event featuring the industry's elite riders pitted against world-class bucking bulls in Hedeman's sudden death three-round tournament style action.
Hedeman's annual event includes a Stick bull riding for kids 6 and under, an intermission steer riding for up and coming bull riders representing the sport's future athletes.
This classic bull riding competition is widely acknowledged as one of the cornerstones for "bull riding only" events in the United States. The bull riding leader has been producing bull riding events that have been thrilling audiences with his two-hour adrenaline rush entertainment style punctuated with the two things he knows fans want to see great rides and high scores.
The one night only Saturday night bull riding is once again being held as the premier event during the annual western heritage celebration in the historic Fort Worth Stockyards and will begin at 8 pm in the historic Stockyards Coliseum on April 7.
"We have enjoyed an amazing partnership throughout the years with our Fort Worth friends and fans and we look forward every year to providing the Fort Worth and surrounding communities with a top rated bull riding competition and great entertainment," said Hedeman.
For three decades Tuff Hedeman has been a part of providing opportunities for bull riders and the result is evident. Hedeman returns to Fort Worth in 2018 with his signature "invitation only" event with a roster of World Champions and National Finals Rodeo contenders (NFR).
After retiring from riding bulls in 1998, Hedeman has made a name for himself in the production of great bull riding events. Hedeman formed the THBRT making the decision to go out on his own after serving for a combined 23 years as the former head of the two nationally organized professional bull riding organizations (PBR and CBR) since his retirement as a rider from the sport in 1999.
"At this point in my life, it's best for my family to be solely responsible for my destiny. My original goals have not changed since 1992. I'm still committed to producing bull riding events that give each bull rider entered the chance to win first and make sure the fans at every event are getting more than expected," said Hedeman.
Pre event activities begin when the doors open at 6:30 with a Stick Bull riding contest featuring a trophy buckle to the champ and trophies to all contestants entered for this two-round competition for kids 6 and under. Bull Riding action gets underway at 8:00 p.m.
The field of competition starts with 24 riders, top twelve advance and finally a four-man finale Shoot Out round where the bull riders will battle for the lion's share of $30,000 in prize money. The format appeals to new spectators and established fans alike because riders can challenge as many as three bulls in one performance.
Hedeman's invitation-only THBRT Bull Team competition will highlight the first two rounds of competition where superstar buckers including World Champion and NFR bulls competing in groups of three.
Hedeman announced the return of Cody Sosebee, rodeo's top entertainer, to Cowtown. Sosebee, the 2017 NFR entertainer will be roaming the crowd and giving away merchandise during breaks in the action.
Tickets on Sale now ranging from $35 to $100. Fans are encouraged to get their tickets now as the show has sold-out in past years and is expected to do so this year,
Websites: Tickets or tuffhedemanbullriding.com. Stick bull riding entries email - stickbullrider@aol.com.
Event Location: Cowtown Coliseum, 121 E Exchange Ave, Fort Worth, TX 76164
Hedeman is available for interviews. For interviews, press credentials and more information please contact Leigh Ann Schroeder 940.902.1112 or tuffhedemanpr@gmail.com