Jockey Mike E. Smith Justifies His Career Choice
by Leigh Ann Schroeder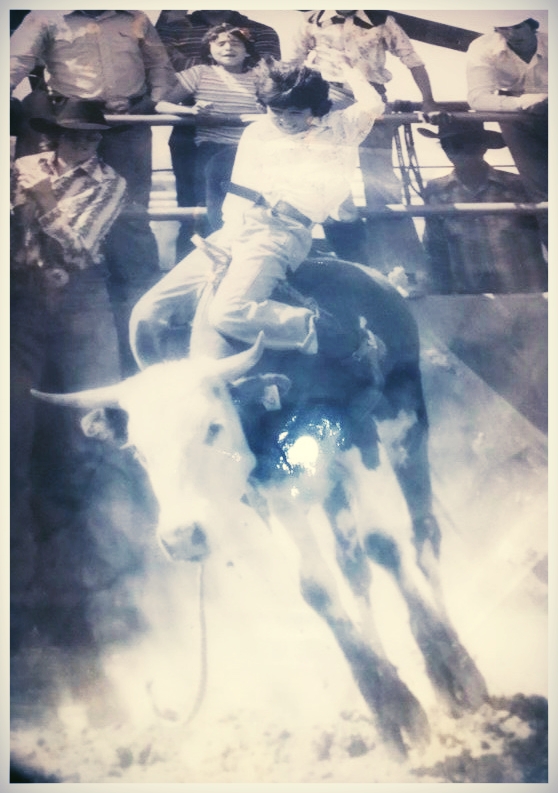 Mike E. Smith at Booger Bryants Bull Riding School
"He was gutsy and fearless as a kid and it's no surprise to anyone that he is now one of the most successful jockeys on the planet," ...Tuff Hedeman
At 11 years old Mike E. Smith wanted to be a bull rider. He attended Booger Bryant's bull riding school but was too small against the power and size of 1970's style bucking bulls.
"He was gutsy and fearless as a kid and it's no surprise to anyone that he is now one of the most successful jockeys on the planet," said his long-time friend, Tuff Hedeman.
52 year old jockey Mike Earl Smith is this week's Tuff as Nails choice after piloting the gifted race horse Justify to the winner's circle for the second time in two weeks. Justify's fifth start saw him remain undefeated through the first two legs of the Triple Crown. He now boasts earnings just shy of $3 million. He changed history as he rode Justify in to the history books as the only horse since 1892 (Apollo) to win the Derby and the Preakness without running as a two year old.
"This week we veer from the bull riding and rodeo world to honor one of the world's great athletes' and someone I look up to personally and professionally, a rock star on the racetrack, a super star rider who won his first race at age 16, but who recently won the 2018 Kentucky Derby and on Sunday - the Preakness. On June 9, he launches his bid to win the Triple Crown at the Belmont Stakes.
"He is a 52-year-old in a sport where youth, comparable to bull riding, is tough to compete against, you have to be in the best shape physically and mentally and it just doesn't happen much. There are guys that have ridden at that age, but it's a short list. Nothing comparable to what Mike's accomplished," said Hedeman.
Hedeman describes Smith as a once in a lifetime gifted athlete with the one quality that separates him from the rest – Desire.
"I have watched him master the horse skills, develop the innate ability to read and react therefore helping the horse, not hurting his performance – that is not an accident. He is flawless in every part of the job. He understands the two biggest challenges of a racetrack – timing and finesse," continues Hedeman.
"The other coolest thing about Mike Smith is you wouldn't know he's who he is by the way he presents himself – he's great with fans, celebrities, the media - just everyone. Sunday after the race we were going to eat with his fiancé and his aunt and he's responding to the 500 plus congratulation messages on his phone. I promise he returned every one of them – now that's tough as nails!"
The Story
Tuff and Mike got to be friends after sharing a common upbringing on the racetrack with both their father's career in racing.
"We both started doing well at about the same time, Mike was 16 and I was 18. I followed his career and over the years he came to the NFR, we stayed friends and we reconnected one year at the Espy's Awards event and have been great friends and stayed in touch. After Trevor and Lane graduated and finished High School rodeoing, I have been able to make it to the Debry, Preakness and Belmont races in recent years.
Mike Smith is a highly decorated Hall of Fame jockey winning his 5,000th victory of his Hall of Fame career in 2012. He is not only one of the highest earning jockeys and winningest jockeys in history but he exemplifies and represents the sport according to the 2014 Lafitte Pincay Jr. Award. Recipients are given the award for having served the sport of horse racing "with integrity, extraordinary dedication, determination, and distinction."
"When we started this award back in 2004, Mike Smith was absolutely the sort of person we had in mind as one of our winners," Pincay said.
Mike Smith was born in Roswell, New Mexico, August 10, 1965. Smith began riding races in New Mexico at age 11. Shortly after launching his licensed career in 1982 at age 16 he won his first race in Santa Fe, New Mexico.
"Balance and physically getting in riding shape is the challenge of most athletes, but for a jockey, I mean when you look at the body of any jockey, they are the thinnest guys in the world," continued Hedeman.
Hedeman explains firsthand what it was like to grow up in the race horse industry like he and Mike Smith. With rock star racehorse jockeys and fathers who prepared and handled both the riders and the horses, their boyhood heroes were the stars of the show.
"When I was an 8 year old kid I was always at the racetrack with my Dad who was a valet, the person responsible for preparing both jockey and horse for racing. As a teenager I was 5'4 and weighed 110 pounds and thought I was going to be a jockey, one of the 'Cool Guys'. We looked up to them, they were the exciting guys at the track. It's pretty exciting to be around them, they were the ones with the best sports cars, sunglasses, hot girlfriends - everything. We looked up to them"
As a teenager, Tuff began breaking and galloping horses at Sunland Park Racetrack in New Mexico, just miles from his hometown of El Paso, Texas he was developing skills that aided his future career choice of sport that required many of the same skills, balance, instinct, and the ability to react.
"I would love to have been able to ride races, but by the time I had enough experience I got too big, I was 135 pounds." 108 – 118 pounds is standard for jockey weight.
What was it like to be at the Preakness?
Tuff: This year's Preakness was an odd race because the fog came in right when they got on the track – when you watch him at the Derby he was so good, but you couldn't see him run the whole race due to the weather conditions. Standings next to that magnificent horse is amazing and just seeing all my old friends in the Jockey's locker room is entertaining.
What was it like to see Justify in person?
Tuff: Standing next to him you instantly know he is different. The look of that horse - He is a horse who has instant presence. You just know he is a great one. The great ones - it is in them to be great all day every day and up to the team to know how and when to get the best performance out of them.
Who makes up Justify's team?
Tuff: Bob Baffert is the trainer, assisted by a great guy named Jimmy Barnes. Baffert is a remarkable trainer that told me the feeling right before you compete – "it never gets old" – I am suree it was the same feeling you had right before the gate opened when you're riding only I'm not risking my life." I feel the same every time I step back into the racetrack venues. He is a Hall of Famer and Triple Crown winner in 2015 with American Pharaoh. His awards are too many to mention – Google him!
"It never gets old, the feeling you get just before you compete, " Bob Baffert
When did you connect with Mike Smith?
Tuff: He is two or three years younger than me, when I started doing well riding bulls was about the same time he was doing well (16 years old) so I kept up and began following his career.
You went to all three Triple Crowns in 2017 and two of the three this year, what is it like hanging out with a World renowned jockey?
Tuff: It's like going to the Super Bowl with Tom Brady
Mike and I visiting with race officials in the Jockey's Locker Room
We think of you as a rodeo personality, what is it like to be back among your roots of the Thoroughbred world?
Tuff: I grew up around many of the now elite Thoroughbred jockeys, trainers, and racehorse experts at Sunland Park near El Paso – it's why I enjoy going to the big races. Its amazing thing to me because I grew up around so many of these guys who I saw get their start and I had the privilege of watching these individuals continue on to have amazing success in the Thoroughbred racing industry. It is fun to see the guys at the races that I have known for ever and they are now at the top of their fields, the best of the race horse world and many of them Hall of Famers like Jerry Bailey, Pat Valenzuela, Mike Smith, Bill Cazner, Bob Baffert, Todd Pletcher, Steve Assmussen and D. Wayne Lucas.
What qualities do you recognize from your background that you see is special about Mike Smith?
Tuff: Reading the situation and reacting. Knowing what to do when with the horse is a learned skill Mike has mastered, to do that with a horse you have to be able to learn and know from actions because there are no words from the horse.
Are there any similarities in training bucking bulls and racehorses?
Tuff: Like a bull – you can't do a whole lot to make them better than they are – it's up to you as a trainer and an owner to give them the best chance to win and be competitive – It's important in racehorses to get them in shape and knowing what that is so the team can produce a winning performance.
Tuff will join his friend Mike Smith in New York for the Belmont Stakes as he attempts to change history.
What makes the Triple Crown difficult? Is it the turf changes, the distance, the weather changes? In Hedeman's opinion it is the fact that the horses are being asked to produce so much - three different tracks at three different distances - in such a short period of time and they are competing against fresh horses at each race. It takes a rare horse to do what so many try to accomplish.
Sounds like a little more than the 8 Second challenge for the bucking bull, but conditioning and soundness still key.
About Mike Smith - Michael Earl Smith (born August 10, 1965) is an American jockey who has been one of the leading riders in U.S. Thoroughbred racing since the early 1990s, inducted into the National Museum of Racing and Hall of Fame in 2003, and has won the most Breeders' Cup races of any jockey with 26 Breeders' Cup wins. Smith is also second leading jockey all-time in earnings with over $312 million.
Robert A. "Bob" Baffert is an American racehorse trainer who trained the 2015 Triple Crown winner American Pharoah. Baffert's horses have won five Kentucky Derbies, seven Preakness Stakes, two Belmont Stakes and three Kentucky Oaks. Baffert holds the distinction of becoming the first trainer in history to win the Derby and Preakness in back-to-back years.