Mother's Day is Sunday and for many bull riders, their Mom was their first career coach and undeniably their original sponsor. Mothers of professional bull riders have seen and sat through it all. Some sit quietly clutching a rosary while others jump up and cheer loudly while the clock works its way to the 8-second buzzer.
While the fans enjoy the drama of the battle on the dirt, Moms only relate to one type of ending – healthy.
It is hard to watch the bull rider athletes and not wonder about their extreme sport style lives and the impact on their families. What's it like to have an extreme job? Many are married and all have a mom. How exactly does that work in everyday life when each time you go to work you face extreme danger and the possibility of injury or worse? What must it be like waiting for that text or phone call signifying safety?
One mom, in particular, knows the routine. She has sewed an endless number of flashy shirts, driven more miles than we can count, fed more chicken enchiladas to cowboys than Joe T. Garcia's, stood on the chutes and sat in the stands for over 60 years. Clarice Hedeman - matriarch, leader and enforcer to the rowdy Hedeman rodeo clan is hailed often by her offspring's competitors as the original "Rodeo Mom, long before the tee shirts were made to identify them."
At 89 years of age, Mrs. Hedeman still passes on her pearls of wisdom whenever she gets a chance with hairstyle and fashion tips, bull riding event and individual ride analytics, and the trait her family remembers as most important to her…family first. For decades Mrs. Hedeman's home was open to any and all rodeo cowboys whom she so graciously always considered family, that needed a roof and a hot meal and the food (and advice) was complimentary.
"She no doubt will never be replicated; the mold has been broken. She has taken care of more cowboys, race track kids and really anyone who needed a little help. Her huge heart and straight-shooting advice; has made her infamous. She has been and will always be the most amazing woman in all our lives," daughter Jane Hedeman.
Advice from your mom comes in various ways and is usually private given most bull riding events have a "no mom behind the chutes" policy. Tough love as inspiration is normal among rodeo kids, but one conversation defined his Mom.R
"I walked up on my Mom talking to Wacey Cathy at the World Finals one year, she was telling him she thought he would win and good luck. Mom, you do know I'm entered - right?" recalls Tuff as the conversation continued.
Clarice Hedeman was born on a ranch in northeast New Mexico, near Farley.
"My granddad was a rancher and my folks were ranchers," she said. "I started running barrels when they first started doing that. I rode cutting horses, showed cattle a lot. I was a bookkeeper for a number of years. I worked at Sunland, La Mesa, and Raton race tracks."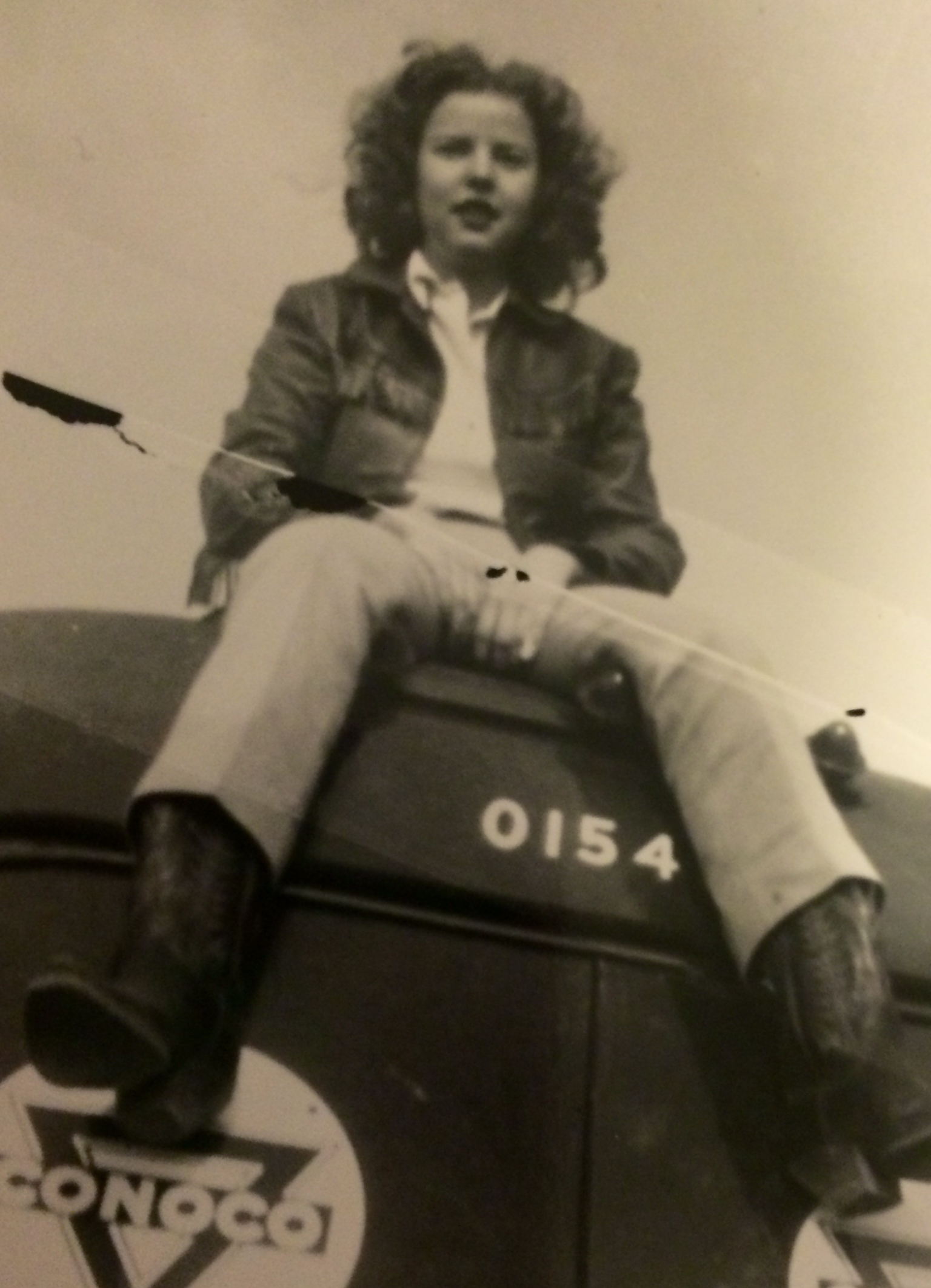 At 15, Clarice Hedeman was working for her Dad driving a truck.
Seven children later, she always enjoyed horses, the track and rodeo. Having a pair of sons in harm's way is not exactly some people's idea of a relaxing way of life. But worry?
Clarice said, "I don't worry. Some fool down here'll run over you while you're getting the mail outta the mailbox. The thing I worry is they have to do so much driving. But I just figure they know what they're doing – in the rodeo and away from it. They were raised in it."
"I could not have dreamed of the life I have been lucky enough to live, but I'm sure my mom did. My mom always believed in and supported our dreams. She taught us by example to never quit, to lend a helping hand and to work harder than the guy in front of you. I do not know anyone who is tougher or kinder than my mom. Love ya ClaraBelle," Tuff.
Since the first Mother's day celebration, May 8, 1914, moms have been claiming the best Mother's Day gifts are ones that come from the heart.
Greeting cards and perfume mega companies insist the ultimate gift moms give and receive is their children's unconditional love…best expressed by purchasing a card with a box of the latest perfume and chocolate covered strawberries. But in a cowboy's world, their best gift is staying alive.
Riders are probably reminded of home more often with pre- and post-ride texting. Most of them are in agreement that no matter what decade you competed in you have faced a tough loss, and it is your mom who always has your back. "See you soon…Sunday roast in the oven or listen to your momma…she knows what's best for you."
We asked a few professional bull riders and one World Champion mom what motherhood looks like in the sport of professional bull riding.
Terri Lee, mother of PBR World Champion Mike Lee"
"The most important traits a bull rider's mom should have is to have a lot of faith in the Lord and to be fearless. Whenever I've been asked how I can watch my son ride bulls (and I have been asked countless times) my answer has always been "if the bull riders can face any fears or doubts they might have and convince themselves they can and are going to win the battle against animal so much bigger and stronger, then the least we can do is to be strong enough to be there to support them and pray for their safety."
Gaile Bingham, Honeyville, Utah, Mother of Tyler and Tim Bingham
"I love my mom and wouldn't be where I am today without her," Tim Bingham.
"My mother said to always remember your family and put them first, a rodeo mom has to be supportive whether times are good or bad. My Mom never tried to get us to quit rodeoing or riding bulls, she asked if this is what we wanted to do even through all the broken bones and helped us get to every rodeo we wanted to go to from the time we were young and all the way up to helping us drive to pro rodeos. Now she doesn't go to many but still works out all our flights and travel. I love my mom and would not be where I am today without her."
Jennifer Kimzey, Mother of Trey and Sage Kimzey
"Trey, boots, hat, belt, what'd you forget?" "The best advice she gave me was God first - then everything will happen the way it should and her superhero trait was driving and being tough."
Chantel Haynes, Houston, Texas – Mother of Demond Haynes
Demond and his Mom, Chantel Haynes
"Most important thing my Moma ever told me is follow my dreams and watch my friends - she never was a big rodeo mom because she was scared if she came to watch I would get hurt. She records all my rides that come on TV and I talk to her a lot while I'm traveling. I talked her to coming to Humble a few years ago and I won the rodeo, but got hung up and she was about to jump into the arena to kill the bull," laughed Demond.
"She texts and calls till she reaches me, 100 times back to back sometimes. She's been there since day one with nothing but love and support and that little lady payed more fees for me than any sponsor I had along the line. Happy Mother's Day MOM."
Jeanna Rostockyj, Waco, Texas – Mother of Cody Rostockyj
"Mom never gave to much advice that I can remember out right. But what she did that has always stuck with me was her demeanor towards others. We didn't grow up with much money or things but she was always nice to everyone and tried to help if she could. And even though I saw it bite her in the rear sometimes, it put plenty of good people that helped us out some in life as well. So even though I never really took any advice - I did try to take some of her sincerity and kindness to help others to heart and I try to help who I can on and off the road."